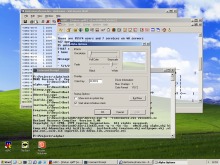 'Transparent' windows
Alpha allows you to make your console windows and similar applications 'transparent', letting your desktop wallpaper show through the background of those windows. If you secretly envied your Linux-using friends because of their transparent consoles, here's your revenge!
Alpha is freely available for non-commercial use. It requires DirectX 7 or above and a graphics card that supports overlays.
Using Alpha
If you have started alpha.exe, you have probably noticed that nothing is transparent yet. You have to configure the applications that you want to be transparent to use the color key set in the Alpha Options (#FEFFFE by default) as their background color. You could also change the default background color for 3d-elements or edit boxes globally for all Windows applications under Display Properties\Appearance.
To get the options dialog back when you have unchecked the "Show icon in system tray" option, simply run alpha.exe again. It will cause the original instance to pop up the options dialog. This is also the only way to deactivate Alpha when the tray icon is not visible (of course you can also use the task manager).
Download
The latest version of Alpha is alpha-1.2.zip (32k).